Political Party Polarization Is Now Complete
Reaction to a published essay by Rep. Barney Frank has stirred up criticism about the Washington strategy of LGBT political insiders, who are blocking wider gains in the realm of LGBT equality.
"There is literally no issue in the United States today in which the gulf between the two parties is wider than on the rights of gay, lesbian, bisexual and transgender people to legal equality. This is a relatively new fact in American political life," wrote Rep. Frank.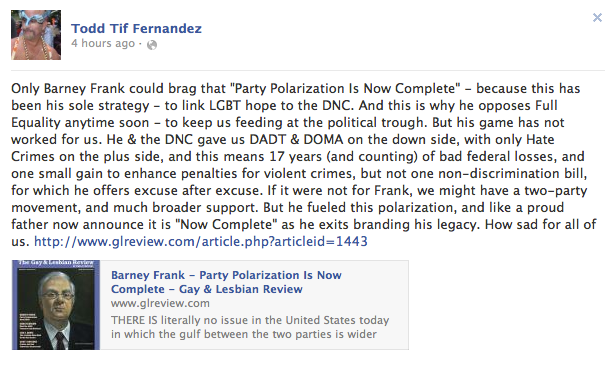 "Only Barney Frank could brag that "Party Polarization Is Now Complete" - because this has been his sole strategy - to link LGBT hope to the DNC. And this is why he opposes Full Equality anytime soon - to keep us feeding at the political trough. But his game has not worked for us. He & the DNC gave us DADT & DOMA on the down side, with only Hate Crimes on the plus side, and this means 17 years (and counting) of bad federal losses, and one small gain to enhance penalties for violent crimes, but not one non-discrimination bill, for which he offers excuse after excuse. If it were not for Frank, we might have a two-party movement, and much broader support. But he fueled this polarization, and like a proud father now announce it is 'Now Complete' as he exits branding his legacy. How sad for all of us," wrote an LGBT civil rights activist on Facebook.